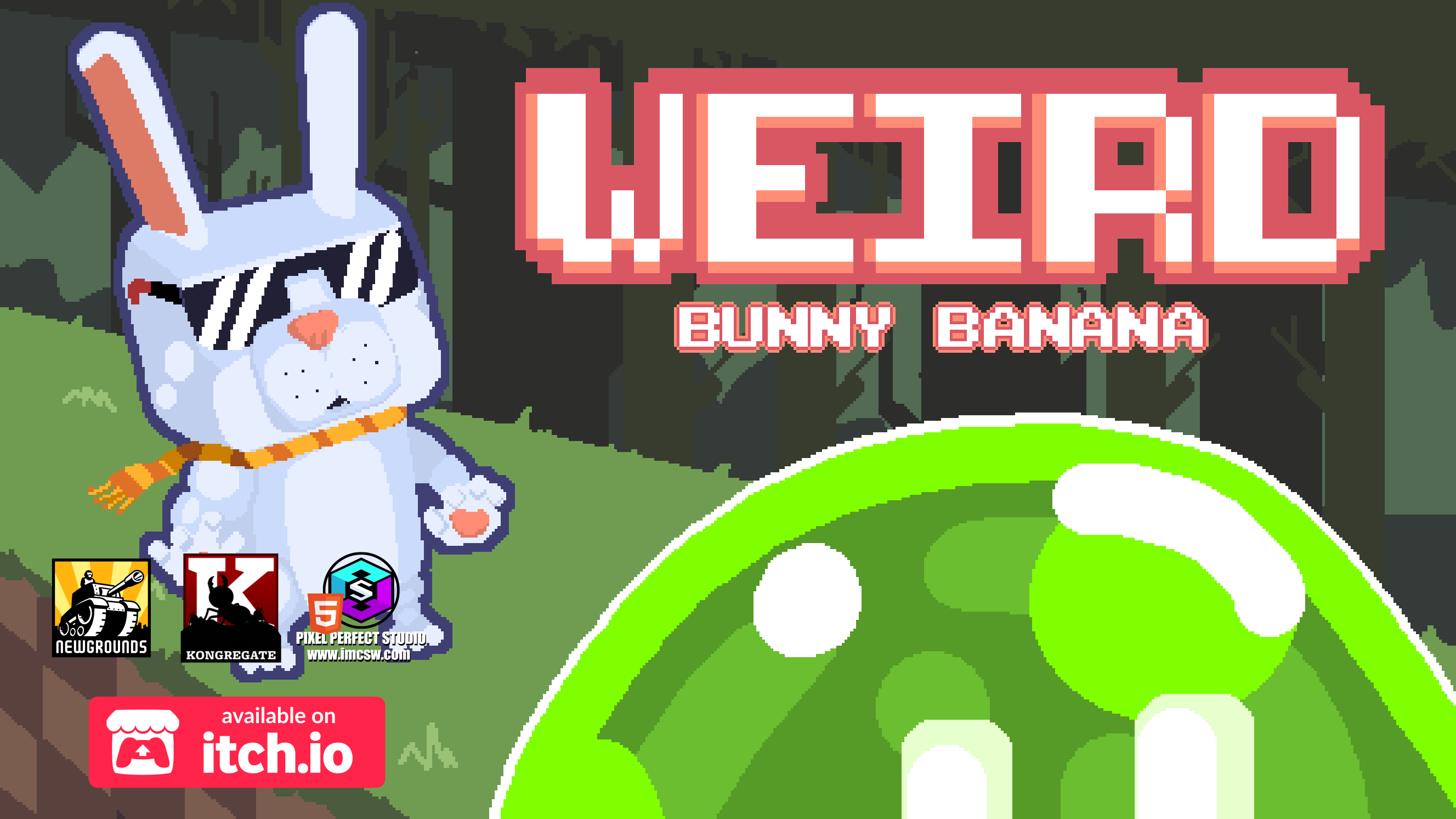 Weird Bunny Banana
Short platformer. Help Weird overcome the 3 stages of the game. Try not to lose all your lifes or you'll have to start over. The game has a in-game global leaderboard as long as you are logged into NG.
Instructions:
MOVE - Arrow Keys / WASD / GamePad
DASH - X Key / R1/RT
RUN - Hold shift key / Hold B
JUMP - Up Arrow / A button

Every 100 bananas = extra life

Every 15K points = extra life
Kiss your dumb bunny girlfriend just for fun and for the medals... aand because every two kisses you get a permanent extra life.
I created this project just for fun, was a practice for: level design, character design, pixel art and api integrations. So, have fun!
Check out my other games!
NEWS Feb 09,2020:
Release Notes:
Full support for gamepads. Now all the UI responds to the gamepad controls.
As asked by some: Coyote Jump.
Awesome audio tracks.
In-game leaderboards bug corrections
NEWS Jan 24,2020:
Bug corrections for some players with Dash while using an XBox Controller
Jumps flips where moderated since some players experienced lack of control. This was only visual, but it didn't feel right, so Weird still can flip but after certain time running.
Added controls help if the game detects a Gamepad connected.
More bugs, just in case I get bored.
NEWS Jan 5,2019:
New EASY stage with Gameboy look & feel. More fun but frantic.
Bug corrections.
NEWS Jan 3,2019:
Full-screen mode is asked at the begining of the game.
Now for every 2 kisses of your dumb girlfriend grants you a permanent extra life.
New keys mapped for flexibility:
JUMP - W key / Space Bar / C Key
DASH - X Key / K Key
RUN - Left Shift / Z Key / J Key
MOVE - AD / Left Right Arrows
It seems that the difficulty of the game is intimidating... will you be able to pass further level 3?
Nobody had found the BDSM Santa.
PLEASE PLAY ON FULL SCREEN MODE.
Comments
Log in with itch.io to leave a comment.
Good work!!
Rabbit Bros ;)
Really cool game! Love the Game Boy aesthetics in the tutorial level... nice touch.
thanks dude! I hope you are able ro see all I placed there... have fun!
"This site has been detected as an invalid domain for the game. Please contact the developer to unlock the domain"
And... if you don't mind, can you press CTRL+SHIFT+J and look for any "red messages" that may help me diagnose and apply a possible fix... thanks!
Sorry, I refreshed the page and it worked. If it happens again, I'll let you know.
The game freezes for me after I press Enter on the Welcome screen. Happens both on Firefox 72 and Chrome 81.
The error I get upon pressing the Enter key is "TypeError: window.g_awb is undefined"

Sorry for the inconvenience, should be corrected by now. Please try again and let me know if any other problem happens. :)